Warranty
Products are sold with a 12-month parts and labour warranty, whereby Hand Made Places may repair or replace at its discretion any parts that are defective by design, material selection or finish and/or workmanship. Other terms apply – please refer to terms and conditions of sale.
Guarantees
10 Year Timber Guarantee
All of our pressure treated timber play equipment is guaranteed against structural failure due to timber rot or insect attack for a period of up to 10 years.

Within 12 months of the Date of Delivery, timbers shall be replaced or repaired with all costs for parts and labour being born by us.
Years 2 to 10 of the Date of Delivery will be replaced on an "ex-works" basis*
20 Year Extended Life Guarantee
The option for an

Extended Service Life

is available to increase the guarantee period up to 20 years. Years 11 to 20 will receive a diminishing contribution from Hand Made Places for the manufacture of the replacement timber play equipment components on an "ex-works" basis.

Where annual Inspections have been procured from Hand Made Places for each and every year of the product's life from year 2 , subject to our inspection of the suspected defective timber, Hand Made Places shall bear the cost of the replacing material on a reducing scale as follows:

Years 11 – 13: 50 %;
Years 14 – 16: 40 %;
Years 17 – 18: 15 %;
Year 19: 10%;
Year 20: 5%.

Decisive is the date of original delivery ex works from Hand Made Places and a customer-documented report of the failure, followed by an inspection by Hand Made Places to validate that the defects are not as a result of wear and tear, deterioration caused by chemicals or other substances, or any other incorrect use/treatment.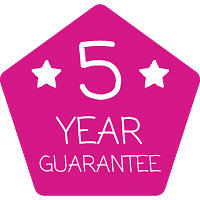 5 Year Surfacing Guarantee
Wetpour surfacing quoted is supplied with a 5-year guarantee. Guarantee periods are against the faulty material only. This excludes perimeter edges, where new wetpour meets existing or an unsuitable edge detail (e.g. timber shuttering), overlays or any bond between existing surfaces and new surfaces due to movements that may occur.
Mulch surfacing quoted is sold with a 5-year guarantee. Guarantee periods are against the faulty material only; the guarantee on rubber mulch is limited to re-establishing the integrity of the product only, we don't accept complaints based purely on aesthetics. The guarantee also excludes light shedding of the rubber shreds, surface growth and deliberate damage. The rubber mulch particles are coated with colour and manufacturers have varying coating thicknesses and processes. Due to which and varying uncontrollable factors, including but not limited to heavy usage and climate these could lead to variations in discolouration. With usage, the colour coating will wear and reveal the base black tyre material; N.B. this "black" may transferring on to users who come into general contact with it. A primer coating surface is available on request.
Any surfacing guarantees or warranties exclude issues with cut backs, in fills and other repairs or 'patching up' to existing surfaces as well as issues relating to colour fastness
When commissioned to lay surfacing, and the preparation for this has been undertaken by others, issues with undulation, settlement and other 'sink' issues are also excluded from any warranty, guarantee or other liability. Equally, we are unable to uphold any claim where the surfacing has been laid onto existing safety surfacing; slabs, flags, soil, grass or other hard or soft areas not approved by us. Sub base inspections are based on integrity of surface at time of installation. Specified & recommended thicknesses of Rubber Mulch surfaces cannot be guaranteed as consistent when installing onto uneven & soft sub-bases.
For installations into bark/loose fill, the ongoing maintenance and 'topping up' of the surface is the responsibility of others.
All guarantees must be supported by payment of the account in full and dated records of any inspections, maintenance and repairs carried out.
*the Buyer must return the defective timber at their own cost
Exclusions:
Failure to follow the company's operations and maintenance instructions regarding the ongoing care and maintenance of the products supplied.
Damage caused as a result of grass strimmers or other abrasion equipment/machinery that damages the timber, or any other accidental damage.
Timber degrade which is the result of the natural movement of wood in service, including weathering, twisting and splitting of components.
Any pressure treated timber that is removed from its original installation and re-used at a new location or otherwise modified in any way.
Mould or moss growth on treated timbers.
Timbers that are used to create planter boxes or troughs.
Timbers that are used in shade sails.
Items that are installed into areas of high moisture ground (e.g. areas prone to flooding, high water table areas, other areas that retain water).
Suspected issues that are not reported/actioned within 10 days' of discovery.
Note: Weathering of wood including but not limited to greying, raised grain, splitting, cracking, warping, shrinkage, swelling, or any other physical property of the wood are not a reason for claim under any warranty or guarantee.
"Ex-works" means that Hand Made Places has no responsibility under these guarantees for the cost of labour or transport for any replacement components.
Further qualifications apply, including elements from our standard Terms and Conditions of Sale.
Aftersales
At Hand Made Places, our team are available to discuss any aspects of the project once it is handed over and aim to address all customer service enquiries as quickly as possible. If you have any queries or would like to speak to a consultant please email [email protected]